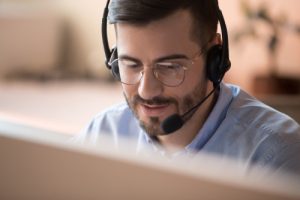 Recent statistics indicate that by 2020, a whopping 78% of brands had already implemented or planned to use AI to serve customers better. One way that businesses are using AI is through over-the-phone customer service. That's why an AI robot answers the phone for so many companies. 
Sometimes that AI is convenient and helpful…sometimes it's a nightmare.
When you're trying to talk to the IRS about a debt you owe or collection efforts against you, for instance, an AI chatbot just can't provide the help you'll need. You'll need to know how to speak to someone at the IRS to get real solutions and answers.
While you might think that such a feat would be straightforward, that's not always the case. If you need help from a live agent, we're here to help fast-track the process and get you the help you deserve.
Reaching the IRS Via Telephone
If you're wondering how to talk to someone at the IRS, your first step will likely be the telephone. Unfortunately, when you do call the IRS, a chatbot AI service will answer. Plus, you'll only be able to communicate with the agency during support hours, which are Monday through Friday from 7 AM to 7 PM.
If you're hoping to get in touch with a person, the best time to call is early in the morning. It's also best to ensure that you have all your documentation, identifying information, and more nearby so you can answer the agent's questions promptly.
First, you'll need to dial the IRS customer service line at 1-800-829-1040.
Upon connecting, the system will ask you to choose your language. It will start asking you many questions about why you're calling. It can be extremely challenging and frustrating to go through these system prompts to get to a live agent, so it might be in your best interests to follow this path forward:
Choose option 2 for "personal income tax."

Choose option 1 for "form, tax history, or payment."

Choose option 3 for "all other questions."

Choose option 2 for "all other questions."

Next, the system will ask you for your SSN or EIN. Do not enter anything. The AI chatbot will attempt to ask you for this information again. Do not enter anything. If you don't, another menu will come up:

Choose option 2 for "personal or individual tax questions."

Choose option 4 for "all other inquiries."
This step-by-step process can be extremely frustrating if you attempt to enter the true nature of your call. You might wind up in an endless AI chatbot loop that keeps redirecting you one way or another without ever getting you connected with an actual live agent.
Once you go through this process, though, you'll finally be able to speak with a human IRS agent who can better handle your inquiries. A good IRS agent will know exactly what tax relief solutions are available in your situation and how you can achieve them.
Can You Chat With the IRS Online?
If you're experiencing tax problems that you need help with but don't want to get on the phone, you might wonder how to talk to a person at the IRS via online chat.
Right now, the only type of online assistance available is either AI chatbots or an interactive tax assistant search. You could also take advantage of other online tools like the "Where's My Refund?" tool, but none of these options will help you get directly in touch with a live IRS agent. As of now, there is no way for you to chat with a live IRS agent online through the IRS portal or otherwise.
What If the IRS Agents Can't Help Me?
Getting in touch with the IRS isn't a guarantee that your tax questions and problems will be answered. You may need the help of an experienced tax expert rather than an IRS agent. Tax preparation experts, for instance, can help field any questions you have about filing your taxes, maximizing your return, and remaining in good standing with the IRS. What's more, a good tax preparation expert can help ensure you remain compliant with the law in your area.
If you really believe you need to speak with an IRS representative and you can't seem to get in touch, it is possible for you to contact your local IRS office for additional help, too. You can reach these agents over the phone or in person at your local IRS office.
How To Speak to Someone at the IRS
When you have serious tax debt problems or the IRS has started collection efforts against you, the last thing you want to do is repeatedly explain your situation to AI chatbots. Not only will this become frustrating very fast, but it could also leave you confused about your next steps. Even worse, it could give you all the incentive you need to ignore your tax debt completely.
After reading this article, we hope you've learned how to speak to someone at the IRS without the confusion and frustration of dealing with chatbots.
Dealing with a live IRS agent might be just as stressful as dealing with a chatbot, though! When that's the case, you may want to look for other options and other ways of finding the solutions you need. Here at Tax Group Center, we've helped countless clients learn how to talk to someone at the IRS and get the solutions they're after. Reach out to our office now to get in touch with a live representative from Tax Group Center who can help you meet your tax goals this year.