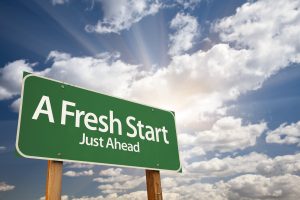 The IRS doesn't exactly go around handing out fresh starts, but you can set yourself up to rebound from a tax problem if you know which steps to take thanks to the IRS Fresh Start initiative. If you've received a letter from the IRS regarding late of delinquent taxes, you should look into what the IRS Fresh Start program could mean for you. Let's take a look at what the program offers, who can qualify, and how to take action.
How Do I Qualify for the Fresh Start Initiative?
The IRS Fresh Start initiative was created to make it easier for people to settle or pay off tax debt that is creating problems. The big thing to know is that this program can help you avoid some of the worst consequences of owing taxes if you qualify. That includes things like penalties and liens. However, you'll need to see if you're eligible for the program before you can get any of the benefits it offers.
There are different qualifications for people in different stages of tax delinquency. Here's a rundown for eligibility:
You'll need to owe less than $50,000 in taxes
All self-employed people must be able to demonstrate that their net income has dropped by at least 25 percent
A single filer must earn less than $100,000 per year
A married couple filing jointly must earn less than $200,000 per year
Will you qualify? It's important to go over every detail of eligibility carefully to see if you may be able to find your place in this program. One of the best things you can do is work with a tax professional to compare your situation to the rules for eligibility.
What Options Are Available Through the Fresh Start Initiative?
The IRS Fresh Start initiative isn't a one-size-fits-all program. It offers access to a variety of options for getting your debt paid or forgiven by the IRS. This usually means paying back all or some of what you owe over time. Here's what the options can look like:
A short-term payment plan will require you to pay your balance within 120 days. If you need more time to pay your tax bill, an Installment Agreement (IA) allows you access to a longer-term payment plan. The big perk of an installment agreement is that it offers reductions in fees and penalties. You may be able to avoid setup fees and other penalties if you qualify for this option.
You may be eligible to pay less than the full amount you owe using the Offer in Compromise (OIC) option. The IRS will examine your income, assets, and debt to determine if you're eligible for an OIC and what amount you can afford. You will be able to pay the balance that remains using a lump sum or monthly installments. The good news is that eligibility for Offers in Compromise has expanded significantly under the Fresh Start Initiative.
Each taxpayer will need to negotiate with the IRS to determine what they are eligible for under the IRS Fresh Start program. A big thing to know is that you're going to need to keep current with your tax payments going forward if you are approved for a fresh start. Failure to comply could nullify the agreement you reach with the IRS. This is one reason why seeking out ongoing tax services even after you've made an agreement with the IRS can be crucial for your financial future.
Will You Qualify for the IRS Fresh Start Program?
The bottom line is that the IRS would rather get something than nothing, and will often work with you if you meet the right criteria. In fact, the IRS forgives millions of dollars in owed taxes each year. It's impossible to say whether you'll qualify for some type of IRS forgiveness plan without diving into your records to see where you stand. Keep in mind that the IRS makes its decisions on a case by case basis. That means that submitting clear, thorough information and complying with everything the IRS asks of you will help you to increase your chances of being approved for a fresh start. Of course, the IRS Fresh Start initiative is a complicated program that offers many routes to a favorable conclusion. Make sure you're working with a tax team that can pursue every option possible.
Work With the Tax Group Center to Qualify for the IRS Fresh Start Initiative
The Tax Group Center is here to help you get started with Fresh Start initiative 2020 paperwork. Let us help you act quickly to take advantage of all of the options for payment plans and forgiveness that are on the table. Our team of licensed tax professionals, CPAs, and lawyers is passionate about helping our clients get fresh starts with the IRS. Our 30 years of experience in dealing directly with the IRS gives us an advantage when it comes to applying to the Fresh Start tax initiative program. Contact us today to get a fresh start with your tax history!