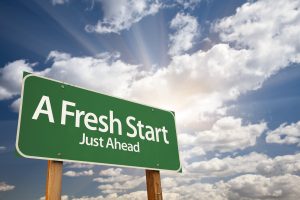 A tax problem doesn't need to drag out just because you owe money to the IRS. The Fresh Start Program that may ease your burden. This program is designed to make it easier for taxpayers to get out from under tax debt and penalties. The program offers several avenues for delinquent taxpayers in various situations. 
The IRS Fresh Start initiative is a collection of changes to the tax code rather than a traditional "program" for taxpayers. Keep reading to see if you qualify for a new start with the IRS.
Who Qualifies for the IRS
Fresh Start Initiative
?
The IRS has designed its Fresh Start program to be available to everyone. The fact that there's so much variety within the program means that you're likely to find at least one suitable channel for debt relief. 
The one hoop you will need to jump through involves current tax returns. The IRS requires you to be fully current will all tax returns before you'll be considered for the Fresh Start program. You also must have the correct amount of withholdings for the current year. This is the IRS's way of making sure it can trust taxpayers to be accountable.
What Are the Requirements for the IRS Fresh Start Program?
The IRS Fresh Start tax initiative is generous and inclusive. However, there are some basic requirements to know about. Here's what it takes to qualify:
Self-employed individuals must prove a drop of 25 percent in net income.




Joint filers can't earn more than $200,000 annually.




Single filers can't earn more than $100,000 annually.




Your tax balance must fall under $50,000 before the year's end.
The underlying requirement is that you must apply for the option you think is appropriate for your situation. The IRS won't automatically apply the Fresh Start program to your tax debt just because you qualify. Penalties and interest will continue to pile up until you officially reach an agreement with the IRS.
What Is the IRS
Fresh Start Program
?
The IRS Fresh Start initiative is an umbrella term for the debt relief options offered by the IRS. Some options may reduce or freeze the debt you're carrying. Others make it possible to pay off what you owe in smaller chunks over a period of time. Here's a look at what's included under Fresh Start:
Offer in Compromise (OIC).




Installment Agreement (IA).




Currently Non

Collectible (CNC).




Penalty Abatement.
It's going to take sitting down with a tax professional to decide which option is suitable for you. The IRS will require detailed financial information that proves that you qualify for one of these relief options. Factors like bankruptcy, active wage garnishments, and tax liens could complicate things.
How Does the
Fresh Start Initiative
Work?
The Fresh Start IRS initiative works by providing a way to settle your debt and avoid penalties. You'll need to submit the appropriate forms and documentation to the IRS to get started. You will then set up a plan for going forward that includes monthly payments, a lump payment, or deferred payments.
How Do You Apply for the IRS
Fresh Start Program
?
The IRS provides eligibility forms for each relief option included in its Fresh Start program. It will be up to you to thoroughly and honestly complete these forms. You can eliminate much of the confusion and stress that can accompany the process by simply getting help from a tax professional. A professional can also help to ensure that you're following all guidelines and applying to the program that's the best fit.