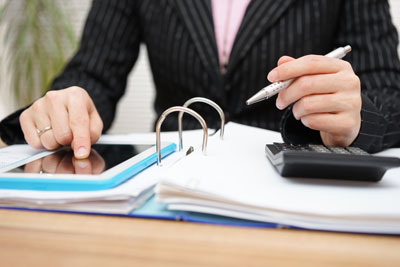 A stressful tax situation can make it feel like you're up against the IRS with no way to protect your rights or move forward. It's important to understand that there aretax relief solutions that can help you see the light at the end of the tunnel, and you can rest assured that we'll work hard to provide you with the quickest, most effective solution to clear your tax issues. Don't just surrender to requests from the IRS or accept that you're going to owe a huge bill before seeking advice from the Tax Group Center.
Why do individuals and businesses turn to us when the IRS comes calling? Our team of experienced tax attorneys, enrolled agents, and CPAs create customized solutions that prioritize your best interests. We can even reduce the likelihood of having to speak to or meet with an IRS agent. Take a look at the specific tax relief services we offer from the list below.
An Offer in Compromise (OIC) is an agreement between the IRS and a taxpayer that aims to settle outstanding tax liabilities for less than the full amount that is owed. We'll use our knowledge of OIC administrative procedures and tax law to help you potentially avoid paying thousands of dollars in taxes, interest, and penalties.
Has the IRS tacked a penalty onto your debt without taking into account your specific situation? Let us help you prove that your nonpayment was not the result of negligence. We'll work hard to have penalties removed or refunded by the IRS by showing in writing that you had what is known as "reasonable cause" for not paying taxes that were due.
Are you overwhelmed by how much you owe to the IRS? It may be possible for you to pay your tax bill in small installments over a period of time if you currently do not have the funds to pay your debt in one lump sum. Let us work with you to see if you meet the requirements for an installment plan. We can also help if you're looking for an extension on your existing installment plan with the IRS.
You could be eligible for Currently Non Collectible (CNC) status if your gross monthly income is lower than the allowable expenses set by national standards. This essentially means that the IRS will recognize that you cannot realistically pay your tax debt. We can help you claim Currently Non Collectible (CNC) status to be protected from wage levies, bank levies, and other collection tactics that the IRS typically uses to collect owed taxes.
If you find yourself in a situation where the IRS has recommended an audit that you feel is incorrect or inappropriate, you can appear before the IRS Office of Appeals to contest the recommendation. A high number of disputed IRS audits are actually settled when an appeal is initiated. You can use the fact that the IRS does not want to litigate issues out of fear of lost time, heavy expenses, and the risk of an unfavorable outcome to your advantage when you work with a professional who understands the process.
A 1998 tax law made it easier for a spouse to be excused from tax liability and penalties when returns are filed jointly. Relief may be available from the IRS if you can prove that you were unaware of a substantial understatement of income or tax when signing a joint tax return. Of course, you must know about and qualify for the guidelines that make it possible to be relieved of tax liabilities caused by the actions of a spouse or former spouse.
Bankruptcy
Bankruptcy may have your world turned upside down at the moment. It is important to know how bankruptcy will impact past and future tax debt before you file, as tax debt is handled very differently from other types of debt during the bankruptcy process. We can help you discover tax relief solutions that are specific to the bankruptcy process.
What Are Common Types of Tax Relief Issues?
People all around the country find themselves seeking tax relief for issues like:
What Is the Best Tax Relief Program?
To put it simply, the best tax relief program is the one you qualify for based on your tax problem and financial state. Not every option will be appropriate for you. The amount you owe and why you owe it, among other factors, will determine which program is the best for you. The program that people generally have the most success with is an IRS Installment Agreement (IA), because this program has the highest acceptance rate.
Does Tax Relief Really Work?
Tax relief services can stop penalties, liens, levies, and wage garnishments. Additionally, payment plans or debt reductions can make it possible to walk away from serious tax debt. Choosing to ignore tax issues instead of seeking the available relief could create serious consequences that chase you around for years.
How Do You Qualify for Tax Relief?
Anyone who owes unpaid taxes for any reason can potentially qualify for tax relief. That means the IRS may be willing to forgive, reduce, or spread out your debt if you apply for tax relief services. The big stipulation is that the IRS will only qualify you for tax relief solutions if all of your tax returns are filed. Make sure you handle any unfiled returns right away with help from tax specialists!
Why Seeking Tax Relief Solutions Right Away Is Important
The big benefit of seeking professional assistance from experts is that you'll have someone who understands the law and IRS policies working on your behalf. You may discover tax relief solutions that will protect you from costly interest charges and penalties. In addition, you may be able to prove that you are not legally liable for a tax debt. You will also rest easier knowing that you haven't overlooked any responsibilities or steps that could cause you more trouble down the road.
Who Needs Professional IRS Tax Relief Services?
Both individuals and businesses may need tax relief services. You don't need a net worth in the millions to benefit from professional guidance and representation. Making sure that everything is handled properly before things get out of your control will protect your existing assets and financial future.
How Can a Company Like Tax Group Center Help People With Tax Relief?
The team at Tax Group Center will help you reduce your debt or make it easier to make payments. Our tax resolution services provide a fully personalized way to explore your options and get the best results. We'll start by taking a look at your situation to see what the IRS has available for you through its debt forgiveness program. We may be able to get your debt reduced or cleared. Additionally, we can work with the IRS to have harsh penalties like extra fees, liens, levies, and wage garnishments cleared from your record before they cause damage to your financial life. We can also show you how to use correct tax preparation to avoid future problems with the IRS.
Why Tax Group Center Is the Top Choice for Tax Relief Solutions
Tax Group Center has a team of licensed professionals, tax attorneys, licensed CPAs, enrolled agents, and tax experts waiting to execute tax relief solutions for your specific situation. We're committed to helping our customers take care of tax issues the right way. We're leaders in the industry with more than 30 years of experience, and we speak the language of the IRS! Don't wait one more day to seek out tax relief services.
Do you need tax resolution services right away? Our staff knows the ins and outs of all of the options that are on the table when it comes to dealing with the IRS. We can guide you toward the best course of action, and we vow to help you appeal for free if the IRS turns down our request for a resolution program. The team at the Tax Group Center won't stop working until you can walk away from the table with your tax issues resolved!
Our years of experience have shown us that putting off a tax problem for even one more day can make matters worse than they need to be. Don't try to deal with the IRS on your own if you're facing penalties or legal action stemming from a tax issue.