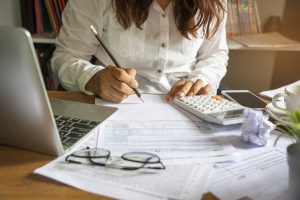 Has a big tax bill thrown things out of balance? You don't necessarily need to panic, but you do need to act. If you owe money to the IRS, it's time to become familiar with something called Form 433. 
Form 433 is essentially the "approval" form for IRS debt relief options like Offer in Compromise (OIC) or Currently Non Collectible (CNC). Let's get familiar with what Form 433 means for you.
Basics of Form 433
We're actually talking about three separate forms when discussing the Form 433 cluster. Those forms are Form 433 A, Form 433 B, and Form 433 F. All three forms are used by the IRS to obtain details regarding your specific financial situation. These details help the IRS determine the level of relief you may qualify for based on your ability to pay the tax debt owed in relation to your assets and liabilities. The IRS may reduce payments, allow for a payment plan, and suspend penalties.
What Is
IRS Form 433 A
Used For?
IRS Form 433 A is also known as the Collection Information Statement for Wage Earners and Self-Employed Individuals. The IRS will require you to complete this form if you claim that you're unable to pay a tax bill in full as a self-employed person. Additionally, this form is commonly required if an IRS Revenue Officer has been assigned to your case. This form provides the IRS with detailed and current information regarding your finances. Here's a breakdown of the information collected on the form:
Personal information related to an individual's name, address, Social Security number, date of birth, and driver's license number.




Employment information that makes it possible for the IRS to assess household income.




Additional financial information and documentation regarding things like trusts, estates, pending lawsuits, and policies for life insurance. This section provides the IRS with insights regarding any asset sources that may impact your ability to pay your debt in the future.




Personal asset information regarding things like real estate, bank accounts, investments, and vehicles. You will also be asked to create a monthly statement calculating income and expenses.




Self-employed individuals need to provide detailed information regarding their businesses. This includes things like business bank accounts, accounts receivable, and business assets.




Self-employed individuals must provide an accounting for all monthly income and expenses.
You'll also be asked to attach documentation to back up your claims. This can include things like pay receipts, invoices, banks statements, loan statements, investment statements, bills, and a copy of your tax return from the previous year. Your attached documentation will vary based on the information you provide on Form 433.
What Is the Difference Between
Form 433 A
and
Form 433 F
?
IRS Form 433 F is also known as the Collection Information Statement. Unlike IRS Form 433 A, Form 433 F is not exclusively for self-employed individuals. However, Form 433 F may be the form you're required to use if no IRS Revenue Officer has been assigned to your case, even if you're a self-employed person. Here's a look at what the IRS will ask you to include on Form 433 F:
All of your contact information.




Information for all bank accounts, credit lines, and mutual funds.




Information for all physical assets and real estate.




A list of all credit cards and balances.




Information regarding any businesses you might own.




Employment and income information for your household.




A tally of your monthly living expenses.



You will be asked to include documentation of all of the financial information you provide on this form. Be as thorough as possible, as proper documentation increases your chances of approval and reduces wait times.
What Is a 433 B Form?
IRS Form 433 B is the form you'll need to use if the tax debt involved is tied to a business. This is the form that you will almost certainly be required to file if you are a business owner with an IRS Revenue Officer assigned to your case. Here's a breakdown of what this six-page document will ask for:
Business information.




Business personnel and contacts




Other financial information.




Business assets and liabilities.




Monthly income and expenses for your business.



The IRS may take a deep dive into your business, but providing current, accurate documentation is going to make it easier to get through the process. However, the delicate nature of filing an IRS Form 433 B for business makes receiving professional tax guidance very important.
How Do I Fill Out IRS
Form 433 A
?
Fill out your Form 433 A section by section. You should be prepared to provide documentation along the way. Filling out this complicated six-page form correctly can be difficult if you're not a tax expert. That's why it's highly recommended that you don't do this alone.
Get Help With IRS Forms 433 A, 433 B, and 433 F
The path to tax relief starts with one form. The team at Tax Group Center can help you decide which version of Form 433 is appropriate for your case. You can count on our team of tax professionals, CPAs, and lawyers to make sure your documentation is impeccable before we pass your application for debt relief to the IRS. Don't let your debt build up for one more day –  reach out to the Tax Group Center for Form 433 assistance!