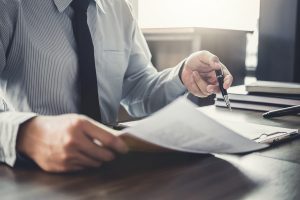 Tax problems pile up quickly when you're not paying taxes, not filing taxes, and ignoring IRS notices. It's a mistake that needs to be corrected, as the IRS and state taxing authorities can't move forward with you if you're avoiding tax obligations. Take a look at the trajectory when you neglect your legal tax obligations while keeping in mind that relief options are available if you get caught up with filing.
What Happens If You Don't File Taxes?
First, there's no such thing as "getting away" with not filing taxes. The IRS knows how much you've earned in a given year, even if you haven't reported your income. That's because the IRS uses sophisticated referencing software that looks at the amounts other people and businesses reported paying to you. If you don't file, the IRS will begin tacking on penalties, fees, and interest to what you owe. 
If you avoid filing for a long enough time, the IRS will likely file something called a Substitute For Return (SFR) for you. Unfortunately, an SFR often results in a tax bill that's higher than what you'd owe if you filed on your own, because the IRS gives you the "worst deal" by not factoring in all of your tax credits and breaks.
What Are the
Consequences of Not Filing Taxes
?
The failure to file penalty is the consequence that really stings. This penalty for not filing taxes is charged on all returns filed after the due date. It totals five percent of your unpaid tax bill for each month that your return is late. At its most extreme, your failure to file penalty can total 25 percent of your unpaid taxes.
What Happens If You Don't Pay Taxes You Owe?
The answer really depends on how far you're willing to let the problem go. Yes, jail time is a potential conclusion if you continue to ignore your tax bill. However, a myriad of penalties and problems will accumulate even before then. 
First, interest and penalties will continue to accrue on your debt until you either pay it in full or come to an agreement with the IRS. The IRS will go after your wages and assets using liens, levies, and garnishments. In fact, the IRS can get access to your bank accounts if you refuse to pay a bill. They can even instruct your employer to turn over a percentage of every paycheck until your debt is settled. 
If you end up being charged with tax evasion, the penalty could be jail time.
What Are the Penalties for Not Filing or Paying Taxes?
The specific penalties are the failure to file penalty and the failure to pay penalty. Again, the failure to file penalty can total up to 25 percent of your tax bill. The penalty for not paying taxes applies a 0.5 percent fee on any tax owed for each month with the ability to reach up to 25 percent. However, the rate goes up to one percent per month 10 days after you get a final notice of "intent to levy" from the IRS. This notice means that the IRS is moving forward with seizing your assets.
Failure to File Penalty
This applies when you don't file by the date that your tax return is due. If you've applied for an extension, it kicks in as soon as your extension expires. Keep in mind that you still need to pay at least 90 percent of what you owe in taxes for the year, even if you do get a filing extension. 
While a filing extension allows you to file past the deadline, it doesn't actually extend your payment deadline. Failure to file is five percent of your unpaid tax bill for each month that your return is late, and can, again, reach up to 25 percent.
What to Do If You Haven't Been Filing Taxes
Get caught up! This is truly the only answer, because running from the IRS only causes penalties, costs, and headaches to go up. What's more, the IRS won't approve you for any debt relief if you owe late taxes. 
The good news is that you most likely will be able to work out a payment plan or relief option as long as you get current with missing tax returns. If you have a valid reason for not filing your taxes, penalty abatement may be available.
If You Can't Pay Now, Can You File Taxes and Pay Later?
It's still important to file your taxes now, even if you know you can't pay your tax bill in full. Once you file, you can apply for a variety of IRS debt relief options through the IRS Fresh Start program that includes Installment Agreements (IAs), Offer in Compromise (OIC), and Currently Non Collectible (CNC). If you can prove that you can't pay your tax bill due to your financial circumstances, you may be able to delay or reduce payment.
Get Help With Your Taxes Today!
Not filing taxes is a guaranteed way to owe more money to the IRS. In addition to incurring all of the consequences of not filing taxes, you're also shutting yourself off from IRS debt relief that will help you get this problem off your back. At Tax Group Center, we've been working with the IRS to manage or reduce tax debt for more than 30 years. Let our team help you reach an agreement with the IRS if you're behind on taxes. A solution is waiting. Reach out today!