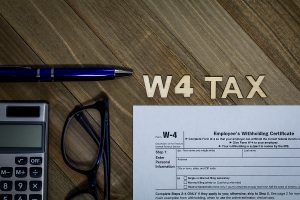 Backup withholding (BWH) is a nuanced tax rule that may apply if you receive certain types of income. It requires payers to withhold a flat rate of 24 percent on income that doesn't normally require withholding. Could this apply to your earnings? Take a look at the IRS backup withholding rules to discover how to fix this tax problem.
What Is
Backup Withholding
?
Backup withholding tax is applied for income that doesn't normally require withholding based on the status of the taxpayer. The arrangement ensures that the IRS will receive the taxes owed on the income. However, backup withholding tax only applies in very specific circumstances. 
If you provided an incorrect TIN to a payer, have received an IRS withholding order, or received certain types of payments, you will be subject to backup withholding. The IRS will inform the payer to withhold 24 percent of all payments to you until you resolve the issue that led to backup withholding. 
When Is
Backup Withholding
Required?
There are two situations where backup withholding tax may be applied: 
If a taxpayer has failed to provide a correct taxpayer identification number (TIN) to the payer in the form of a Social Security number (SSN) or employer identification number (EIN), the payer must apply a backup withholding tax. 
A taxpayer's history with the IRS can also make them subject to backup withholding. If you've underreported or failed to report interest or dividend income, you will be subject to the backup withholding tax. What's more, you will be subject to the tax if you haven't certified that you're not subject to it as a result of underreporting.
What Is the
Backup Withholding Tax
Rate?
This is a flat rate of 24 percent regardless of what percentage of your past income you've failed to report. Again, the payer is responsible for making sure that the tax is withheld.
What Payments Are
Subject to Backup Withholding
?
While backup withholding is commonly associated with interest and dividend payments from investments, this rule covers a dozen different categories. In fact, the IRS subjects nearly all payments reported on Forms 1099 and W-2G to backup withholding taxes. Here's a look:
Interest payments (Form 1099-INT)




Dividends (Form 1099-DIV)




Payment card

and third-party network transactions (Form 1099-K)




Some

patronage dividends




Rents,

profits, or other gains (Form 1099-MISC)




Commissions, fees, and contractor work (Form 1099-MISC)




Broker/barter exchange payments (Form 1099-B)




Some payments by fishing boat operators




Royalty payments (Form 1099-MISC)




Gambling earnings (Form W-2G)




Original issue discount (Form 1099-OID)




Some government payments (Form 1099-G)
Many categories are also exempt from backup withholding. This includes real estate transactions, canceled debts, long-term care benefits, retirement accounts, Archer MSA distributions, tuition program earnings, and unemployment compensation. State and local income tax refunds are also excluded.
How to Know If You Are
Subject to Backup Withholding
If the IRS believes you are subject to backup withholding, you will receive a CP2100 or CP2100A form letting you know. The notice will provide an itemized list of anything on your file that is missing or incorrect. The IRS will also notify the payer if you're subject to backup withholding if the situation isn't corrected.
How to Remove
IRS Backup Withholding
You can't end backup withholding until you correct the reason it was triggered. This may be as simple as providing an accurate TIN number to your payer. However, it may be more complicated if you need to resolve unreported or underreported income with the IRS. In many cases, this means filing a missing tax return.
Get Help With
IRS Backup Withholding
Problems
If a payer is taking a chunk out of your income for a type of income that isn't subject to withholding, they were likely told to do this by the IRS. Taking care of the underlying reason can help you to get that 24 percent back from every paycheck or payout instead of watching it go directly to the IRS. 
If you have questions about backup withholding tax, Tax Group Center is here to help you get a clean slate with the IRS. With 30 years of experience dealing directly with the IRS on behalf of our clients, we're equipped to help you tackle this issue. Contact us today for a consultation to get your 24 percent back!