Don't wait any longer - let a Tax Group Center tax professional take care of your IRS and Oklahoma State tax problems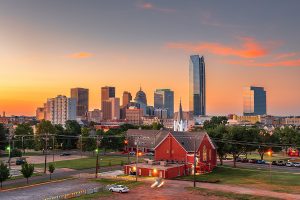 Tax problems can sneak up on you quickly in the Sooner State! That's why having an Oklahoma City tax attorney working on your side is important if you own a business or personal assets. In Oklahoma City, the consequences of not filing or paying state taxes can include penalties, interest, property seizure, and jail time. In many cases, simple errors like unfiled returns lead to avoidable messes with the IRS and the Oklahoma Tax Commission.
IRS Audit Representation
An Oklahoma City tax attorney can help if you've received an audit notice from the IRS. In many cases, a simple error on your return can spark a "desk audit" that is wrapped up quickly. However, there is a chance that the IRS has spotted a major discrepancy that could result in a large, unexpected tax bill. With help from a tax lawyer in Oklahoma City, you may be able to utilize tax relief solutions like an Installment Agreement (IA) or debt reduction.
Oklahoma Franchise Tax Audit Representation
In Oklahoma, the Oklahoma Tax Commission collects and oversees the state's franchise tax. This annual tax is levied at a rate of $1.25 for each $1,000 of capital invested or used in the state. Due to the complex nature of this tax, many businesses that operate in the state use an Oklahoma City tax attorney to avoid violating this tax requirement.
Oklahoma Employment Tax Audit Representation
If a worker you classified as a contractor files for unemployment with employee status, you can be almost certain that an audit will be triggered. These types of audits are also commonly triggered when a similar business in your industry is caught improperly classifying employees. An audit of your employment records and tax withholdings can be invasive and extensive. For this reason, it's not a process any business should go through without the guidance of a tax lawyer in Oklahoma City.
Oklahoma Tax Commission Audit Representation
In recent years, Oklahoma has bulked up the number of auditors in its workforce. That means that every taxpayer faces an increased chance of being audited. While audits are often prompted by erroneous or missing information on tax returns, they can also occur randomly. It's important to seek representation from a tax lawyer in Oklahoma City regardless of the cause of an audit. As a taxpayer, you have specific rights for when and how to comply with an auditor's request that can help you to protect your best interests.
International Tax Attorneys in Oklahoma City, Oklahoma
If the world is your oyster from Oklahoma, you don't want to risk penalties or legal troubles stemming from improper reporting of international assets or income. When you bring in an Oklahoma City tax lawyer specializing in international tax laws, you can verify that you're in full compliance with all state, federal, and international tax regulations. This is also an opportunity to verify that you're structuring your international assets in the most advantageous ways.
Oklahoma City Criminal Tax Defense Attorneys Handling Tax Evasion Charges
A tax problem that gets to the point where criminal charges are imminent is not something that anyone wants. This is why taking care of unfiled returns and keeping up with tax preparation are so important. If you're past the point of being proactive, bring in an Oklahoma City tax attorney to formulate a plan to negotiate with the IRS or Oklahoma Tax Commission.
Audit and Appeals Representation in Oklahoma City
What happens if you disagree with the audit findings of an IRS or state auditor? Taxpayers who disagree with audit findings have a small window of time to submit an appeal. If you handled your original audit on your own, you have a right to bring in an Oklahoma tax lawyer this time around to oversee your appeal on your behalf.
Payroll, Employment, and Business Tax Lawyers in Oklahoma City
At Tax Group Center, we give our clients the advantage of working with experienced Oklahoma City tax lawyers and CPAs. With these dual-certified professionals on your side, you can explore a number of options for settling your tax debt, appealing an audit, and avoiding harsh penalties. Our team has helped clients work with the IRS to get tax problems settled for more than 30 years. Contact the Tax Group Center today if you need tax help in Oklahoma City.