Don't wait any longer - let a Tax Group Center tax professional take care of your IRS and Kentucky state tax problems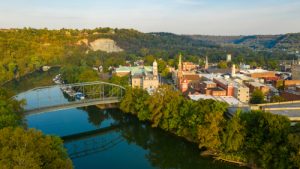 Did you know that at least 95% of Americans receive a type of tax return via the mail that outlines all the information the government needs to file that person's taxes for them? This has led many advocates to argue that it would make more sense to implement return-free filing for these citizens.
Despite the push, return-free filing isn't a reality yet, and every American that earns an income must file a tax return each year. Since tax returns are complicated and frustrating, it's little wonder why tax problems are a common reality.
If you're struggling with your taxes, you might be considering hiring a tax expert to help. With so many options available, though, it's hard to know what type of tax professional can best serve you. Learn more about the different types of tax experts below.
What Does a
Kentucky Tax Attorney
Do?
Have you recently received communication from the IRS that has you worried about what they might do next? Do you believe you could end up in court or in a legal battle over your tax situation? If so, then you need the specialized services of a tax attorney in Kentucky.
A tax lawyer in Kentucky knows the tax laws in the nation, the state of Kentucky, and the local areas they serve. Attorneys are well-equipped to help clients resolve legal disputes, go through legal trials, and provide solid legal advice. Tax lawyers can represent individual taxpayers or businesses. 
Here are a few types of services that a Kentucky tax lawyer can help you with:
Provide tax advice and legal counsel

Ensure compliance with tax codes

Handle IRS tax disputes

Navigate estate tax law

Draft legal documents

Help individuals and businesses get favorable tax treatment
While a Kentucky tax attorney can also help with tax preparation and other services, it doesn't make financial sense to hire a specialized lawyer to conduct these duties, as lawyers often charge a higher rate than other types of tax professionals.
Tax Problems in Kentucky
Since so many Americans have to file taxes, it's little surprise that tax problems pop up pretty regularly. For many, tax problems stem from a lack of information and knowledge. Most adults have never received any type of formal instruction or lessons on how to file taxes, even if they've become a business owner or freelancer. 
Here are some of the most common types of tax problems faced by taxpayers in America:
Lack of information on how to fill out tax paperwork

Failing to file tax returns

Making an error on your returns

Facing IRS penalties and interest

Not being able to afford a tax debt

Facing IRS tax levies or liens

Getting hit with an IRS tax audit

Facing wage garnishment

Failing to meet payroll tax obligations
With that said, many tax programs exist that make filing taxes much easier. What's more, tax professionals can help citizens that are struggling with other types of tax problems.
Tax Relief Services in Kentucky
One of the most common types of tax problems in Kentucky is not being able to afford a tax debt when the bill comes due. This is especially true for businesses who might have to account for more tax debt than they bargained for, or for new freelancers who didn't expect to take on such a high tax burden.
The IRS understands taxpayers face different financial situations. That's one reason why there are so many tax relief solutions for citizens in situations just like yours. If you can't afford to pay off your tax debt immediately, you'll want to take advantage of tax relief services like:
Penalty abatement (reduction in penalties)

Offer in Compromise (reduction in overall tax liability

Installment Agreement (payment plan)

Appealing an audit

Innocent Spouse relief

Currently non-collectible (protection from collection due to financial hardship)

IRS Fresh Start program
These programs are designed to help struggling taxpayers remain in good standing with the IRS even if they owe the agency. The relief available to you will depend on your financial situation and cooperation with the IRS. In most cases, you'll need to get current on all your returns before getting approved for relief.
Tax Preparation Services in Kentucky
One of the most sought-after tax services is tax preparation help. Tax preparers help citizens fill out the right tax forms, file the right deductions, take out the right credits, and maximize their overall tax return. They can also help reduce your overall tax burden.
CPA Services in Kentucky
"CPA" stands for "Certified Public Accountant." While these tax experts are very knowledgeable about accounting, they can also provide quality consultations on tax issues. They've gone through rigorous training, schooling, and exams to reach their level of expertise. With that in mind, hiring a CPA is best if you have a very specific tax question, concern, or issue. 
It's also not a bad idea to consult with a CPA if you're considering starting a business and you want to know the tax implications of doing so.
Do You Need More Tax Help in Kentucky?
Most Americans have an obligation to file their taxes year after year. Filing taxes is not easy for everyone, though, especially for citizens that have unique tax needs or daunting financial situations that might prevent them from being able to afford their tax debt. Regardless of the type of tax situation you're facing, there's a tax professional out there that can help you navigate it.
Here at Tax Group Center, we've gathered together different types of tax professionals in one place to help you get through any tax challenge you might face. If you have more questions about your taxes or you'd like help with one of the tax services outlined above, then we can help. Our team comprises tax attorneys, certified CPAs, tax preparers, and more. Reach out to our office now to learn more about our tax services.