Don't wait any longer - let a Tax Group Center tax professional take care of your IRS and Georgia state tax problems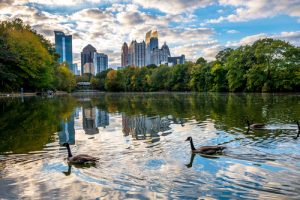 Did you know that over 40% of General Fund revenue in Atlanta, Georgia, comes directly from property taxes and public utility franchises? Since so much money is contributed by taxpayers, it makes sense that the state (and federal) government makes it a priority to collect all the taxes due each year.
If you find yourself on the wrong side of the IRS or the Georgia Department of Revenue, it makes sense to hire a tax professional rather than attempt to represent yourself in a complicated tax situation.
Whether you're considering hiring an Atlanta tax lawyer or another type of tax expert, this guide can help you determine how to move forward and solve your tax problems. Learn everything you need to know below.
Tax Problems in Atlanta
For most Atlanta residents, tax problems begin with a lack of foundation knowledge to rely on. In some cases, filing your taxes is as simple as inputting the information found on your W-2 form, but not everyone has such a straightforward situation. What if you received multiple W-2s from multiple employers, for instance? What if you're self-employed?
Even if you understand how to file your taxes, you might have questions about the best way to do it. The number of available tax credits and deductions can be overwhelming, and it's easy to miss out on one you're eligible for if you're attempting to handle all of your taxes on your own.
Other common tax problems in Atlanta include:
Wage garnishment or other collection efforts
Making a mistake on your tax returns
Needing a copy of your tax returns
Getting audited by the IRS
Facing a tax debt you can't pay
Tax problems are more common than you'd think—but there are almost always solutions that can help you get back in good standing with the IRS. The severity of your problem will dictate the type of tax expert you'll want to ask for help. If you're facing a legal problem, for example, you'll want to hire an Atlanta tax attorney. If you simply need help filing your taxes, a tax preparation service is sufficient.
Read on to learn more about the possible solutions to your tax issues.
Tax Relief Services in Atlanta
Tax relief solutions seek to help taxpayers rectify problems like having a tax bill they can't pay or not knowing how to file taxes.
If you owe more in taxes than you can pay right away, one common solution is to sign up for a Georgia tax payment plan. These payment plans are available on a financial-need basis. You'll have to provide financial proof of your inability to pay right away in order to qualify for a tax debt payment plan.
Other common solutions to tax debts include filing for Currently Non-Collectible status or Innocent Spouse Relief. Depending on your situation, you might also be eligible to file for penalty abatement.
Of course, if you're not sure how to file your taxes, then there are options for that, too.
Tax Preparation Services in Atlanta
Are you wondering how to avoid some of the most common tax problems? The best way to stay in good favor with the IRS is to keep up with your taxes every year, and the easiest way to accomplish that is to hire a tax preparation service to help.
A quality tax preparation service will offer advice and tips on how you can start to track all your income, expenses, regular bills, and more. Once your bookkeeping improves, your tax filing will improve, too. A tax preparation service will take all your financial data and input it into all your IRS forms to ensure your return will benefit you the most.
Depending on your situation, there's a huge chance that you can deduct some expenses or file for a tax credit. Credits and deductions can both work in your favor to help you owe less or get more of a refund back. The right preparation service can help you identify the credits and deductions to apply.
If any problems do come up after you submit your return, your tax preparation service might be able to help. In the event of an audit, the service should be able to provide all your financial records to the IRS or the Georgia Department of Revenue.
CPA Services in Atlanta
Do you currently own a business? If so, then a CPA tax expert can be a huge advantage to your company. A certified public accountant can help your business thrive by giving you financial advice, keeping track of your business expenditures and income, maximizing your tax returns, and more.
Who Could Benefit from a Tax Expert's Help?
Any taxpayer who has a tax question could benefit from a tax expert's help. While you might not need the expertise of a tax attorney in Atlanta, you might still find some serious monetary advantages to hiring a tax preparation agent to take a good look at your tax situation.
Do You Need More Tax Help?
Unless you're a tax expert or don't earn a sizable income, you can benefit from a tax expert's help. Depending on the type of tax professional you hire, you could receive help preparing your taxes, filing your forms, collecting proper documentation, dealing with a heavy tax debt, learning more about your options if the IRS has started collection efforts, and more.
A tax lawyer in Atlanta can help you with any legal challenges you face, while a CPA would be a huge help to your business. As an individual, a tax preparation service can prove invaluable.
Do you have more tax questions? Are you considering reaching out to a tax professional for additional help with your tax issues? Here at Tax Group Center, we make an effort to be available for our customers 24/7. Anytime you have a tax question or concern, we want to help. Consider filling out our tax debt form now to hear back from one of our agents ASAP.