Don't wait any longer - let a Tax Group Center tax professional take care of your IRS and Alabama state tax problems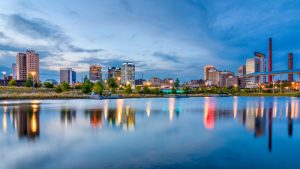 Did you know that Alabama consistently ranks among the lowest states when it comes to how much tax revenue it collects each year? According to the Public Affairs Research Council of Alabama, the two main reasons for this are the state's low tax rates and smaller wealth base. 
If you currently owe a tax debt in Alabama, it's important to recognize that the state government has a massive incentive to collect what you owe. Depending on the severity of your situation, you might be considering hiring a tax attorney in Alabama to help. You might not be sure if you need the expertise of a lawyer, though. Learn more about the different types of tax professionals and the types of situations they can help you with below.
Alabama Tax Attorney
If you're considering hiring a tax lawyer in Alabama, you likely have some pretty significant tax problems. Whether you owe a huge debt to the IRS or you've failed to keep up with your taxes over the years, a tax lawyer can provide assistance. 
In general, you'll want to hire an Alabama tax attorney for the following tax services:
Representation in a legal dispute with the IRS or another entity
Help with transferring an estate
Business tax concerns
Drafting legal documents
Legal counsel and advice
International tax considerations
Tax lawyers are highly knowledgeable about tax law, but before hiring one, consider the cost of a lawyer's services. A tax attorney is one of the most expensive tax professionals to hire, so you'll only want to use their specialized services when needed.
Common Tax Problems in Alabama
To determine what type of tax professional you need to hire, you'll first need to understand the scope and nature of the tax problem at hand. Here's an overview of some of the most common types of tax problems taxpayers encounter in Alabama:
Getting a tax bill you can't pay off
No longer being able to afford a tax debt
Facing tax levies or liens
Needing help filing your taxes
Not understanding how to perform bookkeeping for your business
Failing to file your tax returns
Facing serious IRS penalties and interest payments
Getting audited by the IRS
Not being able to afford your payroll taxes
Facing wage garnishments
Facing criminal charges related to your taxes
If you're facing one or more of the issues above, hiring a tax professional is in your best interests. A quality tax expert will help you navigate the challenges and keep you in good standing with the IRS.
Tax Relief Services in Alabama
One of the biggest hurdles for taxpayers in Alabama is not being able to afford a current or past due tax bill. If you know you owe the IRS a chunk of money and you can't pay it off right away, then there are tax relief solutions you can turn to. 
Here are just a few of the different types of financial relief options you can utilize:
Filing for penalty abatement
Asking for innocent spouse relief
Arguing that the debt has expired
Requesting currently non-collectible (CNC) status
Filing for bankruptcy
Arranging an installment agreement with the IRS
Appealing an IRS audit
While the IRS can levy criminal charges against you, seize your property, or garnish your wages, they will only take these steps as a final resort. Despite their reputation, they would prefer to work with you first. 
With that in mind, it might be a good idea for you to consider the tax relief solutions above if you're currently worried about facing further collection efforts from the IRS. In many cases, the IRS will stop collection efforts if you make a good faith effort to make other arrangements with the agency.
Tax Preparation Services in Alabama
Before you apply for a tax debt relief solution, you'll need to get current with all your tax returns. This is where the assistance of a tax preparation service can be especially helpful, especially if you haven't filed taxes in years. A tax preparer can help you determine each year's income and help you file the correct paperwork for the correct years.
CPA Services in Alabama
CPAs are certified public accountants. These tax experts can help individual Alabama residents or business owners comply with IRS rules and regulations. A CPA is most skilled with accounting matters, but they can also perform bookkeeping, prepare your taxes, maximize your return, and help with any potential audit situation. CPAs are also qualified to help you or your business meet financial goals by helping with financial planning.
Do You Need the Help of a Tax Attorney in Alabama?
From representing you in court to drafting up the right documents you need, there are plenty of advantages to using the experience and skill of an Alabama tax lawyer. Some tax problems, on the other hand, aren't that serious and don't require the skill of a lawyer. You might be better served by hiring a different type of tax professional to help.
For instance, if you're looking for help with bookkeeping or tax preparation, then it doesn't make sense to hire a tax lawyer. They'll charge a significant amount more than a tax preparation service.
Are you still struggling to figure out what type of tax professional you should hire or how to move forward with your tax questions and issues? Here at Tax Group Center, we have a team of highly trained and qualified tax experts. From tax lawyers to CPAs, we can offer you the tax assistance you need. Leave your information on our online form or call our office at (800) 264-1869 to learn more!